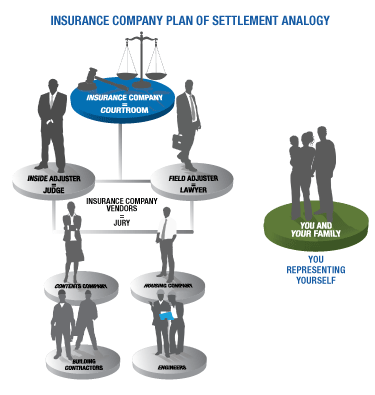 Why
Counter Point?
Insurance companies have their own Claim Representatives and Adjusters who they will assign to your claim. These representatives and adjusters work for the insurance company and their interests and loyalty are to the insurance companies.  Therefore, they will not fight for everything you are owed, they will fight for the most profit for the insurance company.   You DON'T have to rely on the assigned company insurance adjuster.  They cannot by law represent YOU and your insurance company.  The only adjuster who can legally represent you is a licensed Public Adjuster.
Imagine if you let someone else pick your spouse, or your judge, or your jury and make crucial decisions that could affect your future.   Don't let your insurance company adjuster be the only one.  You have the choice and the right to select your own adjuster to represent you with the insurance company.
As a fully licensed and bonded public adjusting company Counter Point has YOUR interests in mind.  We work with you to ensure that you receive everything you deserve and are owed.  We simplify the process of your claim, thru clear correspondence and communication from start to finish.
Completely
Transparent
Counter Point eliminates your burden of the insurance claims process, and it does so in a completely transparent way. We don't take this burden lightly. We give you 24 hour access to your case to ensure you are informed of all steps and results.
Counter Point will be the liaison between you and your insurance company's representatives. This process can be an emotionally charged, confusing process if you are going it alone.  Our staff and support experts are trained, experienced professionals who are able to navigate and communicate in an effective way with the insurance company adjuster to insure timely filing of all required insurance forms and documentation, to avoid pitfalls that would lower your settlement amount.  Our online account center is available 24 hours a day to insure you have immediate access to any and all documents regarding your claim.